tennis
A Guide to the Queue at Wimbledon
🎾🍓⛺ 
Mr. Stuff and I camped for four days and four nights in the Wimbledon Queue, and were rewarded for our efforts with front row seats to the G.O.A.T. Show. Here are the many weird tricks we learned from our experience.
Background
Wimbledon is the only Grand Slam that allots many of its best seats, not only to members of the elite who have the money to afford them, but also to members of the public who have the time, tenacity, and tolerance to just Wait (in line) For It.1
For each day of play from Day 1 through the Quarter-finals, the All England Lawn Tennis Club ("AELTC") allots to Queuers approximately:
500 tickets for Centre Court
500 tickets for No.1 Court
500 tickets for No.2 Court
Several thousand general admission grounds passes
The Queue operates on a simple FIFO2 basis. The moment you arrive at the Queue, you are given a Queue Card that indicates your position. If you are first in the Queue ("Q1") for a given day of play, you will have first choice of the tickets named above. So if you are in position Q1 through Q500, you are almost guaranteed Centre Court tickets for that day. I say "almost" because AELTC does not guarantee the exact ticket count, but 500 per main show court is the generally expected ticket allotment. That said, those in positions later than Q500 may still have a shot at Centre Court tickets, as some in the first 500 may opt for other courts depending on who is playing where that day. This was the case in 2018 when Roger Federer was relegated to No.1 Court, which resulted in panic and chaos amongst Queuers.
💁🏻‍♀️🎟 Queue Tips! Tickets are purchased individually, so if you are a pair (or more), and for example your beloved G.O.A.T. is playing on No.1 Court, but you also cannot pass up the chance to sit Centre Court, each of you can buy separate tickets and swap throughout the day.
Arrival Time
Now the tricky bit! Since the Queue is FIFO and made of humans, you cannot perfectly predict what tickets you will get, if any, despite all your best laid plans. It will depend entirely on how many other people decide to queue, how early they arrive, what courts they want tickets for, and how many showers they are willing to forgo for those tickets. No one knows the best time to arrive for a given year, but data points are instructive. There are some Twitter accounts dedicated to tweeting what times people arrive, and what Queue position they receive. From our own experience:
We arrived at the Queue on Middle Saturday at 10:45am.
We received Queue Card numbers 8,276 and 8,277 for Saturday's play, so we might have received grounds passes if we had wanted to go in that day.
Once the Saturday Queuers were let in, new Queue Cards were issued and we received numbers 581 and 582 for Manic Monday (Round of 16). This was frustrating because it put us barely outside the guaranteed range for Centre Court, but did guarantee us No.1 Court tickets for Monday.
In a fit of madness/genius, we decided to ditch our return flights to stay in the Queue until Wednesday (Gentlemen's Quarter-finals).
Once the Monday Queuers were let in, we received Queue Card numbers 4 and 5 for Wednesday's play. In other words, we would have our pick of the best seats on any show court. This was, obviously, Worth It.
👩🏻‍🏫 Nerd alert! See Wimbledon Queue Arrival Times for 100+ more data points from the 2019 Queue and other years.
🚨 Important notes! (1) Your Queue Card only indicates your place in the Queue, it does not hold your place in the Queue. You are permitted to leave the Queue for limited periods (more on that later) but that period does not cover going in to watch a day of play. If you use your place in the Queue to go in for a given day of play, and you want to go in again another day, you will have to get in the back of the Queue like everyone else. (2) Queue Cards are only issued to those physically present, so if you want to be next to others in the Queue you all need to join the Queue at the same time.
💁🏻‍♀️😴 Queue Tips! If you only want grounds passes, it is usually sufficient to join the Queue early in the morning the same day (like, dawn's-early-light early3), but keep in mind the further back in the Queue you are, the later you will enter the grounds, possibly after play has started that day.
Schedule
Below is the schedule for The Championships, starting Day 1 and ending Day 14. Greyed out are days for which only grounds passes are available via the Queue.

What to Bring
Your days and nights in the Queue will be closer to glamping than roughing it in the wild, but you should still be prepared to have everything you need for however many days your tennis-loving heart can stand.
For sleeping

⛺ Tent – Officially, maximum allowed size is a two-person tent, though we have seen what can only be described as a circus tent. Use your own judgment! Pop-up tents are popular and easy to set-up.
🛌 Bedding – The ground is grass, so fairly comfortable, but worth putting a cushion on. This mattress is self-inflating, so you don't need to bring or find a pump. Camping blanket/sleeping bag and pillows are also good ideas.
💁🏻‍♀️☔ Queue Tips! Check the weather forecast and pack accordingly, especially in case of rain. Nights are colder, even if the days are sunny.
For hygiene

🧻 Toiletries – There are portable bathrooms with toilets and sinks, but no showers, on the park grounds. The bathrooms are a few minutes walk from the camping area, so bring all your toiletries (toothbrush, toothpaste, etc.) in a nice compact toiletry bag. Glow-in-the-dark toothbrush, optional.
🚰 Water faucets – If you just need a rinse of water, there are water faucets near the start of the Queue, which is closer than the bathrooms. Some people wash their hair under the faucets! Quick-dry camping towels are handy for that, as are bio-degradable soaps.
🧼 Wet­-wipes – They go a long way to staying fresh in a pinch! These camping wipes are extra large and designed for "waterless" bathing.
💁🏻‍♀️🚿 Queue Tips! There is a gym about a half­-mile walk from the park grounds where you can shower if you pay for a day pass.
For convenience

💡 Camping lights – There is limited lighting on the park grounds, so bring your own night lights. This nifty hanging light can be hung inside your tent or used as a flashlight. Camping headlamps are also useful for the long walk to the bathrooms at night.
📱 Electronics ­­– There are no charging stations on the park grounds, so bring a portable battery pack, or better, a solar power charger, and put your phone in battery-saving mode during your time in the Queue.
🙉 Earplugs – Sleeping in close proximity to thousands of people in paper-thin tents can be... well, just bring earplugs.
 💁🏻‍♀️🔋 Queue Tips! There is a convenience store a few minutes walk from the park that charges devices for a small fee. However, if you do not want to leave your valuable electronics in the store, one option is to just charge your battery packs at the store, then use the battery packs to charge your devices. All that said, we charged our devices at this store without issue.
For consuming

💷 Cash – This means UK Pounds, not Euros! You'll need cash for a few things: Tube/taxi, food stands, device charging at the store, or storing luggage. Credit cards and debit cards are accepted at the ticket turnstiles.
🍔 Food ­­– There are food stands located on the park grounds, but they are "fun" fare, so if you want something healthier, bring your own snacks. There are supermarkets in the nearby neighborhood of Southfields.
💁🏻‍♀️🥡 Queue Tips! You can order take-out from local restaurants for delivery to the park grounds. Deliveries should be directed to the Wimbledon Park Road gate no later than 22:00.
For fun!

🏸 Games – Anything that is fun and appropriate to bring to a park on a weekend with friends is also fun and appropriate to bring to the Queue. Queuers bring inflatable furniture, lawn games, board games, etc.
🏆 Mini Tennis Tournament – An unofficial mini tennis tournament is held during the middle weekend, complete with tiny trophy for the winner.
What not to bring

♻ Recycle, Reuse, Reduce – There is an area where old Queuers can leave their used items, and new Queuers can reuse these items, and ideally recycle them once again. We picked up a couple lawn chairs and an umbrella for shade. We not only returned these items once we were finished, we also left our entire tent and mattress! But mostly because it was too much of a hassle to pack and bring home. Items left at the end of the tournament are donated to the YMCA Merton Winter Night Shelter.
The Code of Conduct
The atmosphere in the Queue is fun and friendly, but also very orderly. In other words, do not mess with the British and their Queues! There is an official guide to the Queue and the Code of Conduct you can peruse, but here are a couple important highlights:
You cannot leave the Queue for more than 30 minutes at a time! This is the most important rule. The Queue is monitored by a crew of Stewards who are very helpful, but who will also not hesitate to enforce the Code, if necessary! Stewards conduct periodic checks where they go to each tent, in numeric order, making sure each Queuer is in fact in his/her tent. That said, Stewards are reasonable and will probably not eject you if you miss one tent check, or have an emergency. However, if you miss multiple tent checks, or Stewards suspect you are "cheating" (for example, by sleeping overnight elsewhere), Stewards will not hesitate to eject you from the Queue. We have seen this happen!
💁🏻‍♀️⏱ Queue Tips! Stewards generally give about 30 minutes warning before tent checks, so it is useful for at least one of you to always stay in the Queue to warn the other to return, or to make friends in the Queue to text you in case of tent checks or to vouch for you, if necessary. If you need to leave for longer than 30 minutes (for example, to take a shower at the gym or to eat a proper meal), it is best to time it right after a tent check.
Keep your Queue Card with you at all times! This is your most valuable asset. You are 💩 out of luck if you lose your Queue Card, so guard it with your tennis-loving life. I kept our Queue Cards in a fanny pack I wore the whole time (even while sleeping!) together with other valuables. Others put them in plastic ticket holders on lanyards worn around the neck.
Eat, Sleep, Queue, Repeat
Each (very early) morning, Stewards wake everyone up. If you intend to remain in the Queue, you will pack up all your things, wait for those who wish to enter the Stadium that day to be led out of the Queue, and you will re-setup your camp in your new Queue position with your new Queue Card.
If you intend to enter the Stadium that day, you will still pack up all your things, which you can store in the Left Luggage facility on the park grounds for a small fee. Then everyone will line up again in order, Queue Cards will be checked, and you will be led to the Stadium where you will exchange your Queue Card for a wristband indicating which Court you would like tickets for. Once you arrive at the Stadium gates, you will be let in a few at a time to purchase tickets from the ticket booths. This part is a bit of a free-for-all, because there are multiple ticket booths, and you do not know which booths have the best tickets (unless you can extract intel from one of the friendly Stewards at the gates!).
💁🏻‍♀️👯‍♀️ Queue Tips! (1) If you want seats together, you should be in the same line and go to the same ticket booth together. If you do not need seats together, for example if you are buying for different Courts, your chances may be better joining different lines and going to different ticket booths, but no guarantees! (2) Also a good idea to study the seating charts ahead of time so you have a general idea where you would like to sit.
In Conclusion
The Queue is one of our most treasured experiences. Especially the part where we sat within spitting distance of the G.O.A.T. himself, and had a literal first-row seat to... his eventual loss to Kevin Anderson. But such is sports, and such is life!
Queuers are fun, friendly, and tennis-obsessed. We are grateful for the Qmmunity of friends we made from the experience.
Resource Links
Other Guides to Queuing
🤔 Qs on the Q? Ask me on Twitter.
Endnotes
This is a Hamilton reference. Irony intended.
First-In, First-Out. This is a data structure queuing reference.
This is an American national anthem reference. Irony still intended.
Epilogue 
Tiff fulfills dream of being captured in stock photo with G.O.A.T. (human & bear) 📸🙋🏻‍♀️🐐: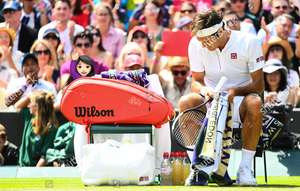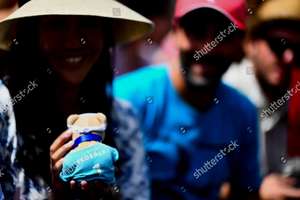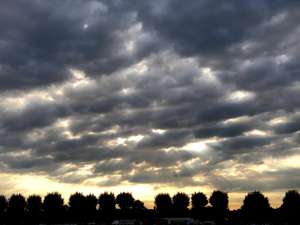 🎾 Happy Queuing, Tennis Nerds! 🤓